KPMG Ideation Challenge 2021
Congratulations to the ETHSG team "Apollo Insights" which reached second place in the national finals of the KPMG Ideation Challenge 2021!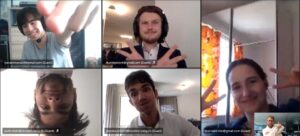 During three days of intense brainstorming and research, "Apollo Insights" elaborated a plan to use machine leraning and big data in order to help fight COVID-19! Great thanks goes to the team's mentor, Marc-Antoine Künzi, for coaching our members through the challenge!
Follow us on our Social Media for regular updates!